Use Instant Booker with Your Team

There are 3 BIG benefits of using Chili Piper with your team:
Save time, improve data integrity, and reporting with our Salesforce Integration

Streamline handoff by booking on behalf of your team members

Standardize meetings across your team to put your best foot forward with prospects and customers
---
Salesforce Integration and Functionality
First, Navigate to the Admin Center
Integrate your Salesforce
Navigate to the Integrations tab and connect to Salesforce via OAuth, you need to be a Salesforce admin or integration user (see minimum permissions here).
Configure your CRM Actions
Within seconds of someone booking with you or a team member, Chili Piper checks your CRM to see if this person already exists as a Lead or Contact. If they do, we will update any new information. If they do not, Chili Piper will create them as a lead.
Furthermore, Chili Piper can create events on Salesforce Objects to track the meetings.
Configure what and when you want to be created and updated in Salesforce in your CRM Action Settings within your Workspace.
Add Custom Salesforce Fields
These fields will allow you to create reports, dashboards, and trigger automation.
At a bare minimum, we recommend you add the "Meeting_Type_CP__c" custom field to the following Objects:
Lead
Contact
Event/Activity
This field, above all others, will allow you to determine that an event in Salesforce was created by Chili Piper. The other fields such as "Queue Name", "No Show", "Rescheduled", "Canceled", etc can also be highly valuable for making reports, dashboards, and automation rules.
Here is a full list of fields that you can create. It's really up to you what you want to add depending on what you want to report on or use as automation triggers.
Create Guest Forms
Guest forms allow you to collect information about the prospect booking a meeting. This information can optionally be used to populate information directly into your CRM when the prospect books a meeting.
Navigate to your Workspace > Guest Forms >"Create Guest Form" button > enter a name for your Guest Form > click "Create", and this will load into our interactive Form Builder tool.
This will have 3 fields by default (First/Last name, and Email) as well as an optional Phone field. Note that the default fields cannot be edited, however, the phone field can be either edited or removed like any custom field.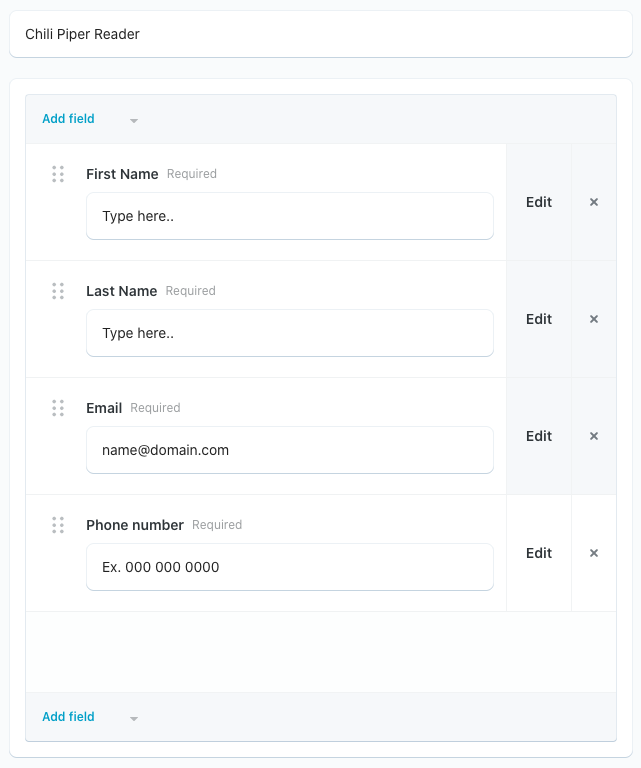 Adding a New Field
Customize your form by adding additional fields. You can specify aspects of a field, including the field name (automatically generated for you), what options are displayed, or even allow you to add options directly as they appear in your CRM!
Finally, select whether you want the field to be required or not and click Done.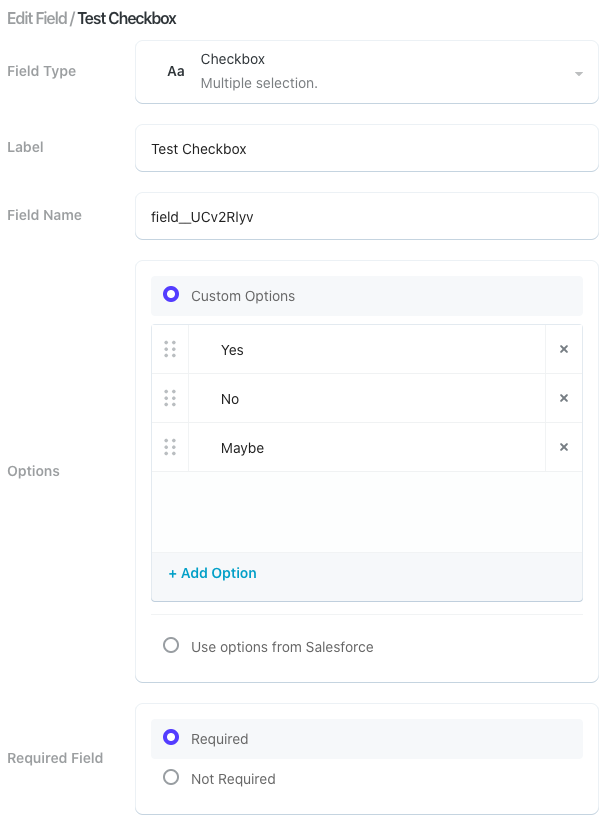 ---
Streamline Handoff
Invite and Manage Users
1. Head to the Active Users page
2. Click "Invite to Meetings"

3. On the window that pops up, do a search for a user based on their email. If their profile exists in your CRM, it will show here, otherwise, just the email is needed
Click "Add". It's that easy!

Give your mates the quick start guide to get set up.
Book on Behalf of Your Teammates
When you open Instant Booker to schedule a meeting you will see your teammates in a list to the left. Select their name to view their calendar.
Select available time on the calendar then click "Book".
If a meeting has already been booked and you need to reassign the host to be your teammate click the Reassign button in the google meeting and follow the same process as above.
To enable this - navigate to your Workspace > Extension > Meeting Reassignment > Toggle on "Allow Assignees to reassign meetings"
Book with Your Teammates
In Email - Use suggested times to increase booking by 3x.
Follow the same process when using Instant Booker - just select your teammate you want to book on behalf of from the list on the left, select a meeting type, time, Book!
---
Standardize Meetings
Create Team Meeting Types
Creating meeting types for your team is very similar to how you did this in the "Maximize Your Meeting Guide" except now you're doing it within your team workspace and giving access to everyone you added to your workspace the use of these meeting types.
This is where some prior work starts coming into play.
1. Personalize the meeting invite (template) by using dynamic tags. These can be pulled from Chili Piper or CRM data
2. Connect Guest Forms to meeting types so you can collect new contact information before they book a meeting
Make these meetings work even harder for you by adding reminders to increase show rates, meeting buffers to allow your team to do prep and post-work, and define the availability of when people can schedule these meetings.
Your team can now access these meeting types in Instant Booker
Each meeting type automatically created personal booking links for each of your teammates! They can access them by clicking Show more Booking Links in Instant Booker
We still recommend you and your team uses suggested times even when booking with or on behalf of teammates and leave meeting type booking links for email signatures
Pro Tip: You can create Smart Booking Links that leverage URL parameters to automatically make magic happen. For example: automatically identify your guest if they are in your CRM so they don't have to fill out their information each time they book
First, you need the booking link. Now add "?id=email_address". It will look something like this:
https://calendar.chilipiper.com/book/inbound-meetings?id=email_address
See how else you can make your booking links smart here.
Deploy Team Email Signatures
Advanced Integrations